New coordinated graphic design
for the Molteni&C catalogues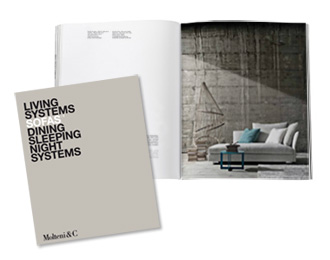 We are pleased to introduce SOFAS, the new Molteni&C catalogue that, as of today, can also be downloaded from this page. Sofas illustrates the wide range of sofas, armchairs and occasional tables by Molteni&C, including the latest projects presented in 2013, all set in fabulous interiors. It provides fascinating set images, photos of details, as well as comprehensive information regarding upholstery, finishes, accessories, technical drawings and a final overview. The new graphic design and coordinated image will be soon applied also to the other Molteni&C catalogues: Living Systems (505, Pass and Fortepiano), Dining (tables, chairs and sideboards), Sleeping (beds and night furniture) and Night Systems (closets, walk-in closets and sliding doors). A new portfolio of Molteni&C collections, split up into the different product categories. Sophisticated architectural settings and a full range of technical information make the new catalogue an easy and quick reference tool.